AWIU Chapter for the Chicago Area
Chapter Co-Chairs:
Robin Winter Odem
Chapter Co-Chair
Marsha Anderson Niazman
Chapter Co-Chair
Latest Activities
11Jun

Member Spotlight MEET Diane Mitchell Henry Los Angeles County Chapter Chair COIR Program Chair Tell us a bit about your professional/career

Read More »

03Jun

INVITING AWIU MEMBERS TO AWIU BOARD MEETING ON July 13 at 9AM, Hotel Santa Fe ATTEND THE AWIU BOARD MEETING AS WELL AS ENJOY THE 15TH

Read More »

20May

[image src="http://www.awiu.org/awiu/wp-content/uploads/2018/05/TatianaGfoeller-150x150.jpg" align="left" border="image_border" link="" alt=""

Read More »
Chicago Chapter Meeting to be Held on Thursday, February 27, Featuring a Review of the Recent Burma/Myanmar Delegation!
The Burma/Myanmar Delegation was a success!  We went 1/5/2014 to 1/16/2014 and had an interesting and fabulous time! Please come to hear the delegates describe their experiences and plans for follow up.
Event Details

What: Chicago Chapter Dinner Meeting Featuring Review of Burma/Myanmar Delegation
When: Thursday, February 27, 6:30 PM to 9:00 PM
Where: Mrs. Murphy & Sons Irish Bistro (2ND  Floor Private Room) – 3905 N. Lincoln Avenue, Chicago, IL – 773-248-3905
There's a small parking lot on the corner of Byron/Lincoln, but car pooling encouraged. Also, parking on street available.
Dinner includes mixed green salad and choice of:
– Amish chicken (with Yukon gold mashed potatoes with thyme gravy)
OR
– ½ slab of ribs with whiskey marmalade barbeque sauce and Guinness  Marconi and cheese.  2010, 2011 & 2012 Ribfest Champions!
Dessert is brownie bites. Coffee, tea, soft drinks provided. Cash bar available.
Spouses and Guests Welcome!
To attend please remit $36.00 and choice of entrée per person payable to AWIU Chicago Chapter by February 24, 2014. Note: Money not refundable!
Mail to Rose Kovalenko, Raco Industrial Corp. 2100 S. Wolf Road, Des Plaines, Il. 60018.
For more information on this event please email chicago@awiu.org
June 13, 2013: Chapter Meeting Featuring Dr. Jessica Winegar, Associate Professor of Northwestern University, on "Women in Revolutionary Egypt"
Robin Winter Odem, Chapter Chair opened the meeting and welcomed the numerous guests.  Robin spoke about the history of AWIU and the Chicago Chapter, also describing the project, EBay, adopted by AWIU to raise money for its programs.  Robin encouraged everyone to consider particpating in this effort and mentioned that the instructions are available.
Marsha Niazmand, the Chair of the Grant Comittee, reviewed the committee's mission. She indicated that the committee has "seed-money" suitable for a number of mini-grants and recommendations are invited. Also reported on were the delegations.  To date, there have been 45 different delegations and the next, in January 2014, is scheduled for Myanmar.  This seems to be very popular, and the Delegation Chairman is conducting teleconferences regarding the history of Myanmar, and plans for contacts with different women's groups. Martha Atherton suggested that small loans to women-owned business startups have been reported in the media as benefitting 70,000 people in rural areas, and perhaps expansion on a vertical basis and/or follow-up may be useful.
Guest, Mary Bonnett, creator and director of the play "Shadow Town", spoke about her work.  The play dramatizes the issue of sex trafficking and has a run set for October 10 through November 17, 2013 at The Den Theatre in Chicago (1333 N. Milwaukee).  Members of AWIU Chicago are planning to attend the Sunday, October 23rd performance and we will be promoting it.
Our featured speaker for the evening was the noted anthropologist, Dr. Jessica Winegar, Associate Professor of Northwestern University, who presented an informative talk, "Women in Revolutionary Egypt". Dr. Winegar related the struggles of women and the issues of human rights in Egypt after the fall of Hosni Mubarek's regime. Dr. Winegar was present in Tahrir Square in Cairo when the Arab Uprising occured and has returned several times since then.  Currently, female protestors have increased over the past year, showing support for key rights and freedom.
April 24, 2013: Presentation by Rev. Kosho Niwano at the Meadville Lombard Theological School
The Meadville Lombard Theological School invited the Chicago chapter to hear a presentation by their visiting guest, Rev. Kosho Niwano. Rev. Kosho is president-designate of Rissho-Kosei-Kai, which now has over 2 million member households worldwide.  She is the mother of four children and recently published the book, The Buddha in Everyone's Heart;  Seeking the World of the Lotus Sutra. With her inspiring collection of reminenscences, this young religious leader shared the fruits of her personal study of the teachings of her grandfather, Rev. Nikkyo Niwawo (1906-99).  He was the founder of the international lay Buddist organization of Rissho Kosei-kai.  Rev. Kosho bears witness to her grandfathers's lifelong dedication to the liberation from suffering for all people through the teachings of the Lotus Sutra, one of the most important Mahayana Buddhist scriptures. A reception and book signing followed the talk. 
March 18, 2013: Chicago Chapter Meeting Featuring Ingrid Riedle, PhD., on the European Union Debt Crisis and How it Affects Women
The Chicago Chapter meeting in March was a dinner at Mrs. Murphy's. guest was INGRID RIEDLE, PHD., Adjunct Professor at Columbia College and Harold Washington College.  Dr. Riedel spoke about the European Union debt crisis and how it affects women. We also had an exciting report from members who attended the International Women of Courage, "Four Days of Celebration" March 5th through March 8th, in Washington, D.C. Our Signature Event, the IWOC celebration at the National Press Club, where the U.S. Secretary of State's 2013 IWOC are honored and presented with awards.
December 11, 2012: Chicago Chapter Holiday Party
Members and Guests attended a Holiday Party for a meet and greet with hors d'oeuveres, desert, and highlights of 2012 at the home of Marsha Niazmand in Evanston, Illinois
MEMBER JUDITH JAKAITIS: Judith discussed her personal account of the Balkans Delegation in June, 2012 
Pictured is Judith meeting with the President, American University, Bosnia. Read more about Judith's experience on the delegation. Find out about the people she met and the connections she and the delegation made with citizens in 6 countries.
RECENT MEETINGS: Meeting October 25: Pictured Right: Marsha Anderson-Niazmand, Grant Committee Chairman, Magda Sharkasi, Libyan Delegation Leader, Judith Jakaitis, Member 2012 Balkans Delegation, Kathleen Hunt, President, AWIU and Martha Atherton (PhD Hon), Bernice Behrens Award recipient.
PLANNING FOR AWIU'S 45TH Anniversary in 2013:
Kathleen Hunt, President and 
Donna Pinckney, AWIU Secretary and Chapter Chair, San Diego Chapter reported on plans for a special 45th anniversary celebration to be held in Chicago in October, 2013.  A large event with International guests is planned.  It will be open to interested citizens of Chicago.
QUICK LIBYA OVERVIEW:  Magda Sharkasi, Leader the 2009 AWIU Libyan Delegation (Libya delegation slideshow) gave a brief overview of Libya after the Revolution.   Magda is a Chicago Chapter member currently living in China.  AWIU Virtual Chapter 1 is currently doing a focus Northern Africa.  Libya after the Revolution was a topic of a recent meeting
AWIU GRANT COMMITTEE REPORT:  Marsha Niazmand, Chicago Chapter member and AWIU Grant Committee Chairman, gave a report on the AWIU Grant program. This year AWIU has given grants to each of the Secretary of State's 10 International Women of Courage.  The grant to Global Press Institute has
RISING VOICE OF WOMEN AWARD: Rose McInerney, International Women's Associates, reported on the Rising Voice of Woman Award which will be presented on November 8, 2012 to Kathryn Bolkovac and Larysa Kondracki.  These women raised awareness about sex trafficking in the film THE WHISTLEBLOWER, based on Bolkovac's experience as a U. N. peacekeeper in post-war Bosnia.  AWIU is a partner for this event.
Rescuing Minors From Sexual Exploitation
The principal speaker was Frank Massolini, a full time volunteer at Salvation Army and the Director of the Promise Program (Partnership to Rescue Our Minors from Sexual Exploitation) and founder of Anne's House, a long term residential program for young women and girls who have been affected by sexual trafficking exploitation. Frank corrected the common myth that Sex Trafficking is something occurring in foreign countries.  He stated that in the Chicago metropolitan area there are approximately 16,000 to 25,000 women and children who are commercially sexually exploited on any given day.  The average age of entry into prostitution is 12 years old. He praised Illinois for making legal the Children's Act which is very progressive legislation and he praised Tom Dart, Cook County Sheriff for his involved leadership in this tragic problem.  He stressed the need of awareness and of reporting to the police who have been trained in this area.
Other Meetings in 2012: The Vital Film on Human Trafficking in Bosnia
"TheWhistleblower" October 16, 1 PM,Loyola University October 22, 6 PM,Kent College of Law PARTNERING WITH IWA (International Women's Association) of Chicago See the Trailer 10/16/12 at 1 PM at Loyola University, Register Here  6225 N. Sheridan Rd., McCormick Lounge, Coffey Hall/Lakeshore Campus, Information Commons, Chicago, Il 10/22/12 at 6 PM at Kent College of Law, Register Here 565 W. Adams St., Chicago, Il. November 8 , 5:30 PM Honoring Kathryn Bolkovac, The real Whistleblower and Larysa Kondracki, writer and director of the film "The Whistleblower". The Rising Voice of Woman Award event at the Union League Club of Chicago.  REGISTER HERE
August 30, 2012 Chapter Meeting: Report on the Balkans Delegation
JOURNEY OF UNDERSTANDING TO THE BALKANS REPORTED BY Ms. Judith Jakaitis and Ms. Joan McEachern, both members, who went on the AWIU Delegation to the Balkan countries (Serbia, Bosnia/Herzegovina, Croatia and Montenegro) 6/2 – 6/20/12. Hear about their meetings with women's groups and others who are working to rehabilitate and heal women/families after displacement, rapes, and loss of family members incurred by the wars/conflicts in the 1990's. They also met the International Woman of Courage in 2010, Agnes Osztolykan, who was the first Roma Woman Member of the Hungarian Parliament in Budapest.
LEARN MORE AT THE BALKANS DELEGATION BLOG READ ABOUT PRIOR EVENTS BELOW
June 27, 2012: Chicago Chapter Meeting Featuring Professor Jessica Winegar on the Role of Women in the 'Arab Spring' uprising in Cairo, Egypt in January 2011
The Chicago chapter met on June 27, 2013 at Mrs. Murphy's & Sons Irish Bistro with Prof. Jessica Winegar as the speaker on the Role of Women in the 'Arab Spring' uprising in Cairo, Egypt in January 2011.
Winegar was present in Cairo when the uprising occured. She met many women who were active in supporting the uprising and saw how the Muslim Brotherhood saved Tahrir Square for the Revolutionaries. Her presentation was timely and informative. She thinks the women in Egypt will have a more important presence in the country as the new democracy develops. Prof. Winegar said Mohammed Morsi, Egypt's new president, and a member of the Muslim Brotherhood, will select a woman as vice president if he follows through on what he has stated. It will be very interesting to see what happens in Egypt and if women prevail in their attempts to gain social justice. Prof. Winegar stressed how incredibly complex and diverse the issues of religion are and how they effect everyone. Her remarks were accompanied by live video during the uprising.
Dr. Winegar is a Professor of Anthropology at Northwestern University in Evanston. She is the author of numerous articles on the arts and culture in the Middle East and is a founding member of the Task Force on Middle East anthropology. Dr. Winegar is interested in meeting with AWIU again to update us on future changes in Egypt.
May 11, 2012: AWIU and World Chicago Cosponsored Conference
World Chicago, in partnership with American Women for International Understanding – Chicago Chapter, hosted a public forum entitled "STEM (Science, technology, engineering and mathematics): the Status of Women in these Fields." The speakers were a women's delegation of U.S. Department of State sponsored visitors from Botswana, Cameroon, Ghana, Kenya, Nigeria, South Africa, Tanzania and Uganda. These STEM professionals spoke about the status of women in their countries and initiatives to involve more girls in science, technology, engineering and mathematics. The panel was moderated by Deborah Sawyer, founder and President/CEO of Environmental Design International Inc. (EDI).
Naadiya Moosajee, co-founder of South African Women in Engineering, discussed the challenges facing women engineers in her country.
AWIU members, guests, and Lexy Gore (WorldChicago) with five of the nine African Engineers speaking at the event.
February 21, 2012: Chicago Chapter Meeting on World Chicago
The Chicago Chapter met Tuesday evening, February 21, 2012 to learn about World Chicago.(formerly the International Visitors Center of Chicago). Lexy Gore, pictured right, joined World Chicago as Communications Manager in June, 2004 and currently is Director of Events and Outreach. Lexy gave a power point representation about World Chicago, which is a non-profit membership organization which acts as a liaison between approximtely 800 international visitors and their Chicago area counterparts each year.
World Chicago has served as Chicago's official host for U. S. government sponsored visitors since 1952. The goal of World Chicago is to provide face-to-face professional and social interaction between visitors and their American counterparts that enable a better understanding of each other's way of life and that promote Chicago as an important international center for culture, commerce, and tourism. Lexy's presentation was well received and enjoyed by everyone in attendance. AWIU and WorldChicago hope to partner on an event in the near future.
December 8, 2011: Chicago Chapter Meeting Featuring Susan Mazaheri

We met at noon on December 8 at Bistrot Margot. The chapter had two dynamic women as guests.
Susan Mazaheri is helping with the International Services of the Red Cross to provide better lives for those employed in the industrial, agricultural and food service area.  Most are Latinos, and she helps them access needed services such as housing and education.  She has also participated in the activities of the Red Cross following disasters in the US, of which there were ten in 2011.  Another rewarding aspect of her work is helping families who have become separated from one another due to war or disasters find each other and become reunited again. Susan also volunteers with the Immigrant Child Advocacy Project (ICAP) working with unaccompanied minors who have been placed in imawiu detention. There are 50 such centers throughout the US and all are secret locations. Volunteer advocates such as lawyers, anthropologists and social workers meet each week with the detainees to figure out their futures. Robin Winter Odem and Susan Mazaheri are picture at right. More photos on Facebook.
The Chapter also welcomed AWIU Grant Recipient Professor Fan Hong (Nicole) Meng from Bejing. She has been in the US since August and is currently staying in the Chicago area with Martha Atherton. She is involved with a project through UCLA to integrate the East and West medical libraries. She is currently working at the Pacific College of Oriental Medicine in Chicago. Pictured left to right: Katherine Heffernan, Dr. Meng, Robin Winter Odem and May May Thuo.
October 10, 2011: Chapter Meeting Featuring WE-ACTx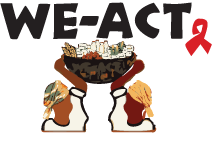 The Chicago Chapter met Thursday, 10/20/11 to learn about WE-ACTx (Women's Equity in Access to Care and Treatment).  The organization was co-founded in 2004 by Dr. Mardge Cohen, Medical Director, who was unable to speak due to an emergency. It was founded to facilitate HIV primary care for women/children who were infected with Aids in Rwanda.
Dr. Mary Fabri, a clinical psychologist and Director of Torture Treatment Services and International Training at the Marjorie Kovler Center of the Heartland Alliance spoke about being to Rwanda with WE-ACTx eighteen times to help set up their support programs.  Her presentation was well received and enjoyed by everyone in attendance.  Also, handicrafts that were made by Rwandan women and children were on sale with proceeds going to women in Rwanda.  The Chapter sold $978 worth of handicrafts, a huge success for the organization.
Also, a special presentation was made by Robin Winter Odem, Chapter Chair, to Tawfik Sharkai who designed the new logo for AWIU.  Tawfik and Magda are moving to Changhou, China for two years. Magda Sharkasi lead the AWIU Delegation to Libya in 2009. This was the first delegation of American Women to the country in 40 years. Tawfik has accepted another position with Wrigley Gum.  They will be greatly missed by AWIU.